This month, Apple held their first event of 2022! During this event, they announced the release of the 3rd generation iPhone SE 2022. To usher in this new generation of mobiles, we're comparing the iPhone SE, old vs new. Since publication, the brand new iPhone SE 2022 is now available and waiting for you to add it to your basket!
If you are interested in the latest affordable iPhone and are curious as to how it differs from its predecessors then read on.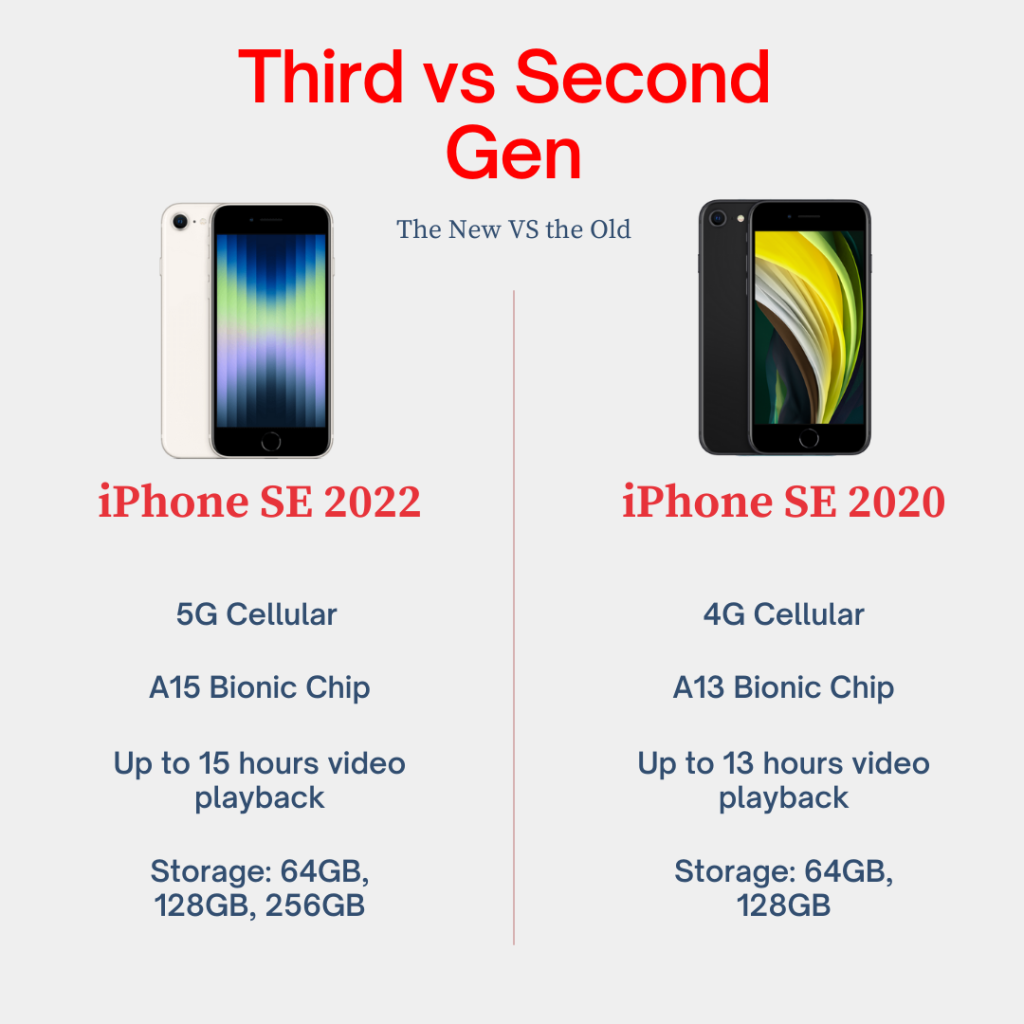 iPhone SE 2022 vs 2020: What Is The Difference?
Design
The new iPhone SE 2022 follows the same design as its predecessor. It still has a glass backing, however, this is made from stronger glass to allow for wireless charging and help prevent damage. It also has a stainless steel frame and the classic Touch ID home button we all know and love.
In terms of design, there aren't any major changes to note apart from the more durable glass used for the front and back. This is the same high-quality glass that is used in the iPhone 13 models.
So the 3rd generation SE has the same shell and singular camera, paired with the Touch ID home button. It also comes in 3 colours Midnight, Starlight, and Product (RED).
Both models are IP67 water and dust resistant and neither have the MagSafe tech found on the (then new) iPhone 13 models.
iPhone SE 3rd gen: 138.4 x 67.3 x 7.3mm, 144g

iPhone SE 2nd gen: 138.4 x 67.3 x 7.3mm, 148g
So physically there haven't really been any major changes because if it isn't broken why fix it, right? All the new updates and changes are on the inside… where it matters.
Display
Again the display of both models is quite similar. Both have a 4.7-inch display with a 1334 x 750-pixel resolution, with a pixel density of 326ppi. This is a great display with good brightness, great colours, and an overall satisfying viewing experience. Both feature Apple's true tone technology, a great colour display and even Haptic touch.
These models have an LCD panel rather than OLED, which the iPhone 13 models have.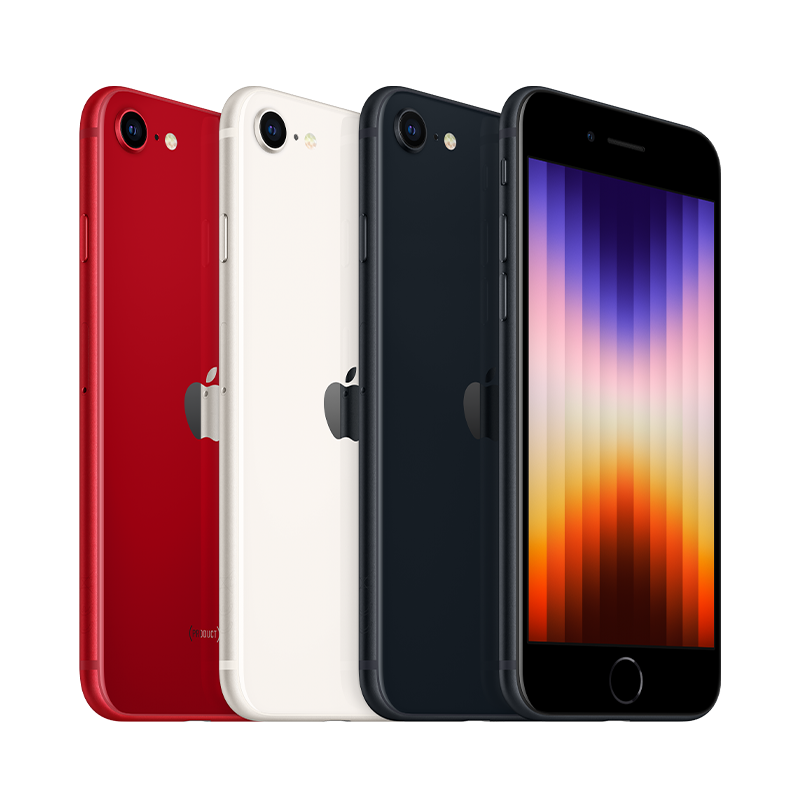 iPhone SE Hardware
New chip alert!
The iPhone SE 2022 3rd generation comes with an exciting brand new chip! The A15 Bionic chip is the same chipset found in all the iPhone 13 models. A super speedy chipset paired with 5G connectivity to offer the ultimate mobile experience.
This means you get the same chip and 5G for a much cheaper price than the beloved iPhone 13 models. The 2nd generation SE runs on an A13 Bionic chip and only offers 4G connectivity. So if you decide to upgrade you will definitely notice a difference!
And yes, the SE 2022 maintains full functionality with the new Apple AirTags
UPDATE: The new Apple smartphone series is here! Buy the iPhone 14 for your business now, or read everything about the iPhone 14 Series specs & features here.
Storage & Battery life
The new model comes in 3 storage sizes: 64GB, 128GB, and 256GB. As well as this the battery life has improved, offering up to 15 hours of video streaming. On top of this, you have wireless charging but unfortunately no MagSafe charging.
The older second-generation model has the same storage options, but only has a battery life of 13 hours. It also offers wireless charging but not MagSafe charging, unfortunately.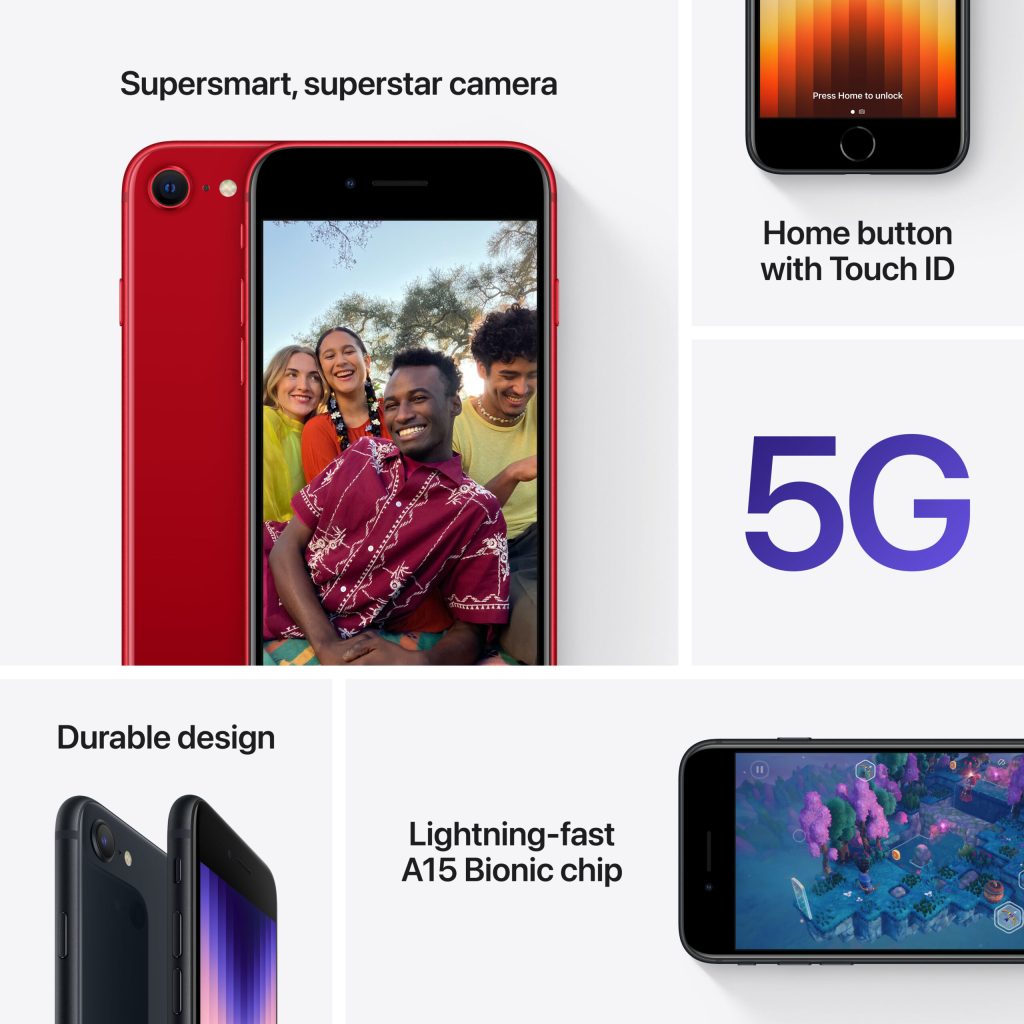 Camera
The new iPhone SE 2022 still features a single-lens rear camera. This camera has a 12-megapixel wide sensor with an f/1.8 aperture and optical image stabilisation. The front camera has the same 7-megapixel sensor as the second-generation iPhone SE.
The new features of the 3rd generation mobile are that it now has Deep Fusion and Photographic Styles! It still has Portrait mode and Portrait Lighting like the 2nd generation SE.
Neither models have cinematic mode and night mode which can be found on the iPhone 13. Love learning about all the new releases? Read all about the iPhone SE 2022 specs and features!

5G or 4G
One of the main selling points of the iPhone SE 2022 vs 2020 is the 5G connectivity! This makes it the cheapest Apple model yet, with incredible 5G. This allows for a better connection when you are out and about. 5G is the future of mobiles so upgrade today so you don't get left behind. Better connection gives you one less thing to stress about when performing crucial tasks on the go.
Click now and learn more about 5G and why it is so beneficial!
Looking for the latest releases? Read our list of the biggest upcoming New Phones of 2023, including the iPhone 15, Pixel Fold, and Samsung Z Fold 5 / Z Flip 5!
The "Must Have" Affordable Smartphone
So if you are an Apple fan in need of an upgrade, or looking to save some money, then the new iPhone SE 2022 is the mobile for you. The new chipset and 5G connectivity alone is the perfect reason to upgrade, especially for those still using an outdated handset.
Order this incredible new release for all your employees at the best price on Businessmobiles.com, cheaper than going directly to the network… OR, check out our list of the 10+ BEST Mobile Phones for Business and find the best choice for your company.
At Business Mobiles we have a range of handsets available to buy now as well as the iPhone SE 2022. If you're reading this, get with the times… BUY THE iPHONE 14 FOR BUSINESS TODAY!