Everything about the Vodafone & Three Merger:
The Vodafone and Three merger is almost underway, with the two UK telecom giants announcing plans to combine by the end of 2024. When complete, the result will be the biggest mobile operator in the UK, averaging around 27 million customers and valued at £15 billion with over 11,500 staff.
This change comes with its own set of pros & cons, with Vodafone and Three claiming that it's great for customers and the nation. On the other hand, the "Unite" trade union claims that this could cause mobile bills to rise by up to £300. Despite this, representatives discussing the Vodafone and Three merger insist that this will not increase prices for customers.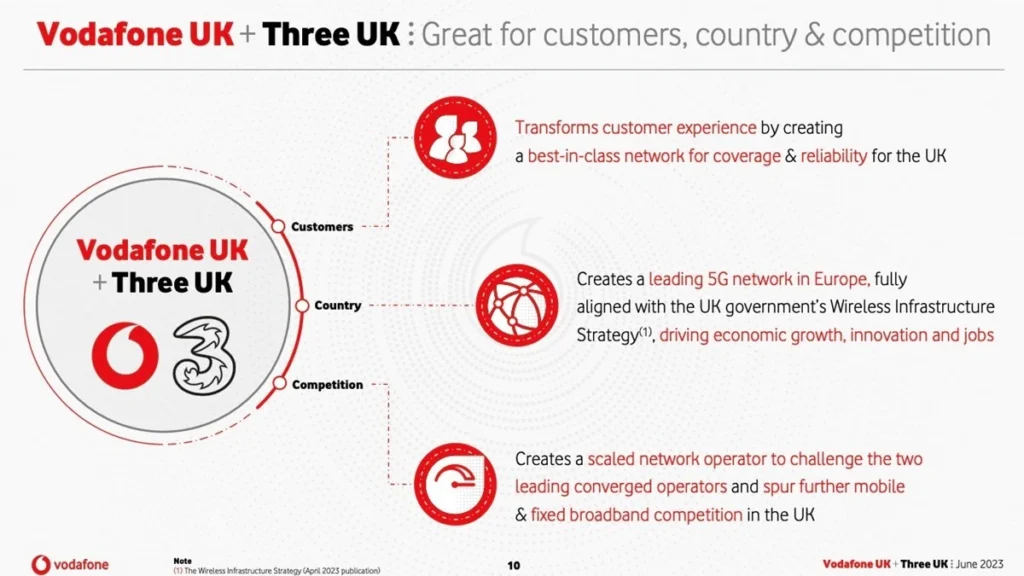 1. Potential Price Increases
Stephen Lerner, general counsel of Three, asserted that the proposed merger between Three and Vodafone does not include any plans for price increases. He emphasized that this decision is not driven by financial motives and that the companies have no intention of raising prices.
Vodafone further argues that prices will drop if the merger goes ahead, as they can invest more into UK infrastructure and lower the price of internet access. The two firms are currently engaged in discussions with the Competition and Markets Authority (CMA), which is responsible for assessing the potential implications of the merger.

Stephen Lerner also expressed confidence in the CMA's approval of the merger, which is anticipated to result in £6 billion of investment during the initial five years and a total of £11 billion. On the contrary, George Stevenson from the Business and Trade Committee claimed that the Vodafone Three merger will result in price rises and increased profits for carriers.
A hearing on October 17th saw members of the UK Parliament engage in a discussion with senior representatives from Three and Vodafone, along with regulatory experts, to delve into the potential ramifications of the proposed merger between the two companies. The central theme of the session revolved around the impact of the merger on competition and consumer interests.
Concerned about the rising mobile prices? Learn how to avoid the EE, O2, Vodafone, and Three Price Increase of 2023.
2. Nationwide Network Improvements
Both carriers have high hopes following the Vodafone Three merger, including a "best-in-class" 5G network within the next 10 years. This will result in up to 6x faster average network speeds and 2.5x the capacity of their current network.
"As a country, the UK will benefit from the creation of a sustainable, strongly competitive third scaled operator – with a clear £11 billion network investment plan – driving growth, employment and innovation."

– Margherita Della Valle, Vodafone Chief Executive
Another aim is 99% of the UK population covered by their standalone 5G network by 2034, alongside every school & hospital nationwide by 2030. They claim that all this gives customers better value, a wider range of choice over plans, and a better home broadband experience.
3. Good for Competition
Representatives claim that the Vodafone and Three merger will be good for competition, who will be motivated to upgrade their services faster than ever. They will be forced to follow suit and offer similar value to their customers.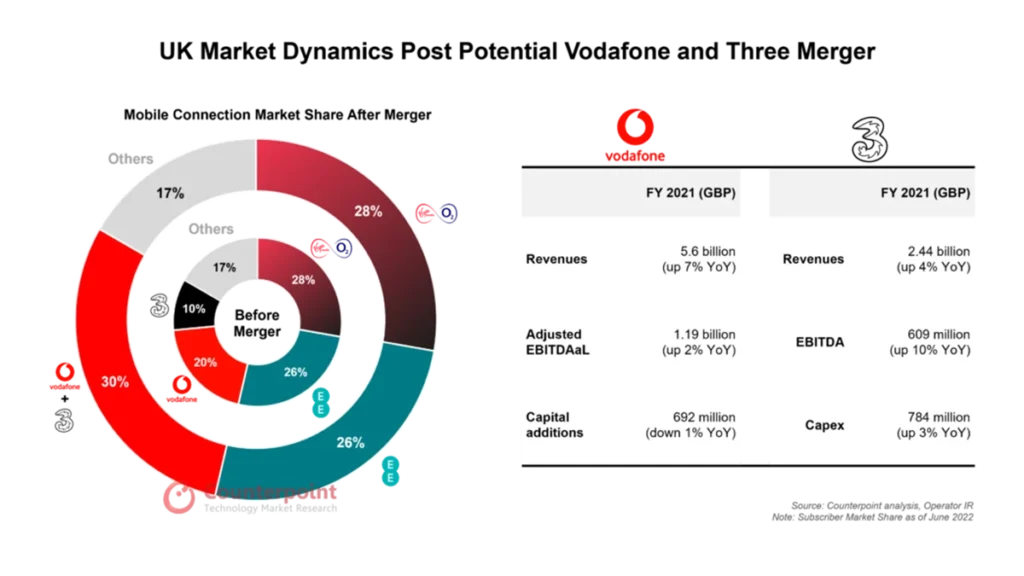 On the other hand, the Vodafone Three merger means a combined market share surpassing EE and Virgin Media O2. Critics fear the creation of a "telecoms cartel", one with too much power over the industry. Research from Unite lays out the case that reducing competition will cause prices to increase, lead to job cuts within the UK, and empty promises of investment.
4. New Jobs, But Where?
These two networks have announced their ambitions to "build one of Europe's leading 5G networks" and improve customer experience with better choice and value across mobile and broadband services.

All of this should drive growth whilst creating hundreds (if not thousands) of new jobs across the continent, and boost Britain's role as a tech leader within it. Despite this claim, an estimated 1,600 jobs are expected to be lost in the UK, coupled with Vodafone's massive 11,000 global job cuts announced prior.
5. Security Concerns of Vodafone & Three Merger
Security is another concern critics often claim could be affected. For example, Vodafone provides data and services to government entities, including the NHS non-emergency helpline. However, Three is not a public sector supplier. This means that CK Group will have access to government information and telecom contracts for the first time.
Also, Three UK's ownership under Hong Kong-based CK Hutchinson has caused concerns regarding foreign ownership of a prominent national asset.

6. Legalities
The CMA and European Commission denied Three's attempted takeover of O2 in 2016, voicing concerns of increased prices. Three attempted to placate this by offering a 5-year prize freeze for UK consumers, which was declined.
However, we expect to see this strategy re-used during the Vodafone Three merger, which promises £11bn of 5G infrastructure investment over the next decade (provided the deal goes ahead).
Interestingly, Vodafone retains the right to buy out Three's 49% holding just three years after the deal, provided the firm's value rises to £16.5 billion. The Vodafone Three merger is currently awaiting approval from regulators, so nothing is final as of yet.

Closing
The Vodafone and Three merger are by no means the first, with the announcement coming just 2 years after Virgin Media and O2 joined in June 2021. However, it's definitely the biggest, likely catapulting the new company to the top spot as the UK's #1 mobile operator.
Hopefully, this will be reflected positively across consumer and business customers alike, without any potential price hikes. Until then, all we can do is wait and see if the deal goes ahead.
In the meantime, check out our exclusive deals across EE, Vodafone, Three, and O2 business contracts. Having a hard time finding the best hardware? See our list of the 10+ Best Mobile Phones for Business!