Thinking of getting an Apple Watch for fitness, or are you looking for relevant fitness apps? Maybe it's as simple as "New year, new you?". If you need help staying on top of your health and fitness, then an Apple Watch may just be the new tech accessory for you.
Will the watch help you magically lose weight? No, we know Apple products are outstanding but they aren't proven to be magical (YET). Losing weight will be up to you, but the watch can help you in a number of ways. This tech accessory is ideal for those who struggle to stay on track when it comes to working out. Using an Apple Watch for fitness will greatly enhance your routine, although it's always down to you to start!
It's time to elevate your fitness journey and make wellness a priority! Overall an Apple Watch is perfect for fitness; remaining a great investment if you aim to stay active, move your body, and even lose weight.
REMEMBER: weight loss is not the ultimate goal, as becoming healthy and happy should be. Not only will an active lifestyle help you to look your best, but will make sure you feel your best also.
Enough rambling from us… This is how an Apple Watch can help you on your fitness journey!
Rules For The Best Results
Want to actually see results and get the most out of your smartwatch? Then follow these 3 simple rules when using your Apple Watch for fitness:
Wear your watch ALL the time
Don't forget to start a workout on the watch
Charge your watch during inactive periods (when eating or taking a shower)
If you follow these rules, you will get the most accurate data in order to track your results!
Keeps You Accountable
You can lie to yourself but you can not lie to your Apple Watch! So, if you are a master manipulator and can even convince yourself that you have actually been pretty active today (despite not leaving the house), then this watch is for you. Tracking all your movements, you can not even brainwash yourself when your watch has all the data to disprove your argument. Track your daily movements and encourage yourself to make today better than yesterday.
Nothing will keep you quite as motivated as the need to complete your daily rings.
Every Step Matters
Did you know that walking is actually one of the most effective ways at burning fat? Yes, it's true. Sure an intense 30-minute workout is a great way to get your heart pumping, but it means nothing if you are then stationary for the rest of the day.
Walking approximately 10,000 steps daily is proven to be more effective than hitting the gym hard once a week. Not only is this form of exercise a lot more gentle on your body and joints it can also easily be incorporated into your daily routine. So ditch the car or bus and get those extra steps in to see your body and mind transform.
In a recent study, 11 moderate-weight women lost an average of 17 pounds (7.7 kg), or 10% of their initial body weight, after 6 months of brisk daily walking. Humans stem from a line of long-distance hunter/gatherers, our body is naturally made for it – so start using modern technology to enhance your exercise!
Monitor Your Water Intake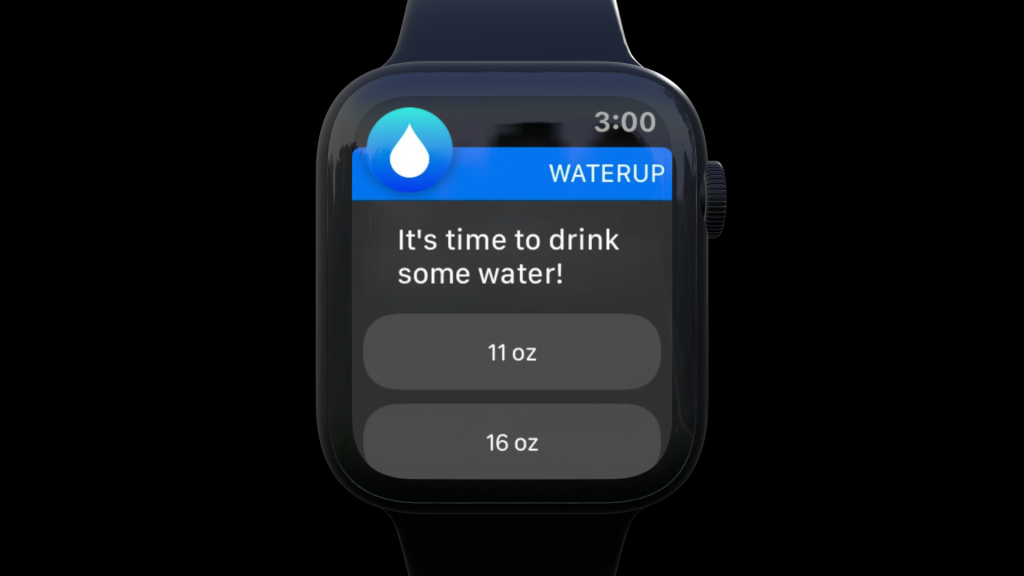 This is a highly underrated aspect when using an Apple Watch for fitness. When people think of weight loss, they normally think about food. What they neglect is the importance of your water intake. Water is a natural appetite suppressant, so if you are an avid snacker maybe it's time to switch out your crisps for a glass of water.
Water can help you lose weight as it helps you to burn more calories. In a 2014 study, 12 people who drank 500 mL of cold and room temperature water experienced an increase in energy expenditure. They burned between 2 and 3 percent more calories than usual in the 90 minutes after drinking the water. Without water, your body is unable to properly metabolise stored fat or carbohydrates. Water is an essential part of ensuring our bodies function properly, and should definitely not be neglected when it comes to improving your overall health.
Count Your Calories
Calorie counting isn't for everyone but for those who find it beneficial to their health and fitness journey should know all about a calorie deficit. The only way to actually lose weight is to be in a calorie deficit. This means you need to be burning more calories than you are consuming. Proven to be the most effective and healthiest way to achieve weight loss.
So ditch the juice cleanses and stop the restrictive eating! Instead, be conscious of how much you are consuming and how much exercise and movement you are doing in order to counteract that.
The Apple Watch is the best way to accurately see just how many calories you are burning each day. At the end of the day take a look at your calorie intake. Subtract your daily calories burnt from your intake, and you'll see your position for the day. If the result is negative, you have a calorie deficit, and if you maintain that deficit over time, you'll lose some weight.
On rest days (or when you start to slack) you may see that the number is positive. In that case, you are no longer in a deficit. Meaning you've eaten more than you've burned. That's how you gain weight.
Better Sleep = Better Health
What many people seem to neglect when it comes to getting in shape is how sleeping well is directly linked to achieving this. Yes, you can be staying active and eating clean, but if you are not sleeping well then it could all be in vain!
Certainly an often overlooked aspect of using an Apple Watch for fitness – Studies have shown that just one night of sleep deprivation can decrease insulin sensitivity by as much as 33% and can be as detrimental as six months on a high-fat diet!
Bad sleep can undo all your hard work so it is important to make it a priority. You can use your Apple watch to monitor, focus on your sleeping patterns and generally maintain good fitness. Sleep peacefully knowing you are not only giving your body what it deserves, but you are one step closer to achieving your fitness targets.
Better Together
One of our favourite features of the apple watch is that you can share your progress with your friends and family! So if you have a gym buddy or someone who has the same fitness goals as you, you can embark on this journey together. Nothing is better than keeping you on track like some healthy competition and motivation.
Once connected you can track each other's progress, challenge your friends, and even send them some encouragement – learn how to connect your Apple Watch now!
Listen To Your Heart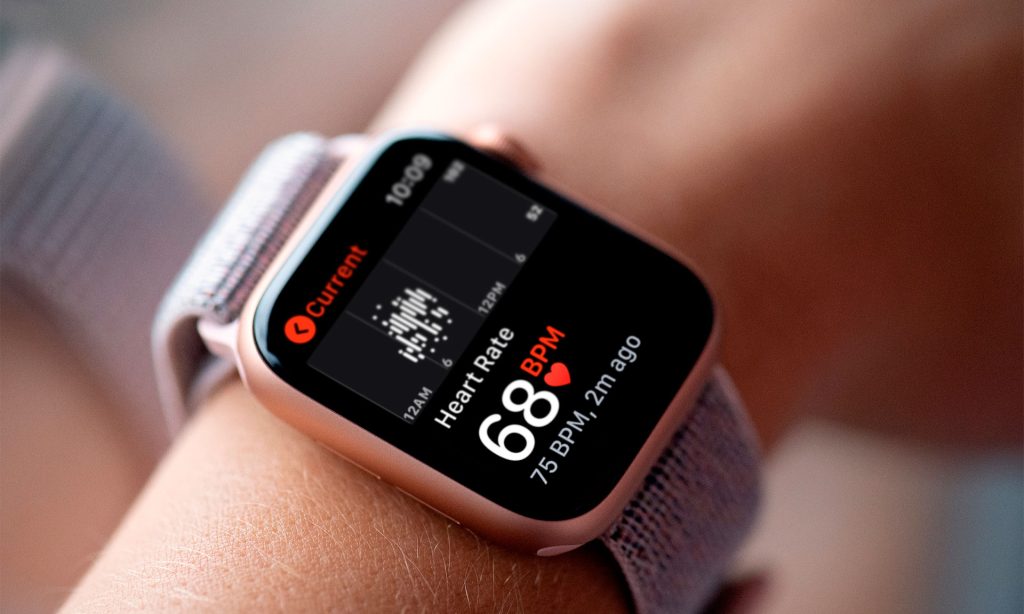 Monitoring your heart rate on a daily basis can show you if you are progressing in your fitness journey. This feature is an integral reason to wear your Apple Watch for fitness – nothing is as important as your cardiovascular health!
As your fitness increases, you will notice a change in your heart rate patterns. The watch now shows resting, walking, workout, and recovery heart rates and you can dig deeper in the Health app on your phone to draw trends. Interested in other smartwatches and still want to lose weight? Read our "Top 5 Best Smartwatch for Health & Fitness" list now!
What does it all mean?
Firstly, a lower resting heart rate can be a sign of improved fitness.
Secondly, a raised resting heart rate on a given day can be a sign of incoming illness or overtraining.
For example, if yours is up by 10 beats per minute it might be a reason to rest that day.
By listening to your heart and identifying patterns you can make changes to your training schedule to ensure you are getting the most out of it.
Patience & Consistency Is Key
As you can see, an Apple Watch is a great investment to kick start your fitness journey. Having the data and the ability to monitor your progress is a huge motivator in itself. Soon you will find yourself going out of your way in order to complete all your rings before the end of the day!
Be patient with yourself and listen to your body. The only way to effectively lose weight is to take your time and see what works for you. Use your smartwatch to make weight loss fun!
Interest in other Apple products? Learn exactly what is an AirTag and how to use it now!
Shop Our Deals
Time to achieve your fitness goals and lose those extra pounds, without losing £££. We have a range of top deals for you to choose from. Hurry these exclusive offers won't last forever – browse the best smartwatches at the lowest rates, or shop our biggest mobile deals and Business SIM only offers. We have you covered on all things tech!