Welcome to our Grammarly review from Business Mobiles, in which we cover exactly what Grammarly is, how it works, how much it costs and much more.
In a world where content creation has become a huge focus for every business, making sure your copies are correct before releasing them into the world is very important, and it's not always easy. A little mistake can hide itself inside your document and has the ability to sabotage your company's image.
Who here hasn't judged content with an obvious typo?! We're all guilty, even me. This is why we would like to introduce you to Grammarly, the online editing software that will undoubtedly improve your productivity and grammatical reputation.
What is Grammarly?
If you're still wondering "what is Grammarly?", this section if for you. It's an editing software that will revolutionise the way you write. If you are a writer/proofreader or if you create content for social media, blogs or email blasts, this tool will be your new best friend!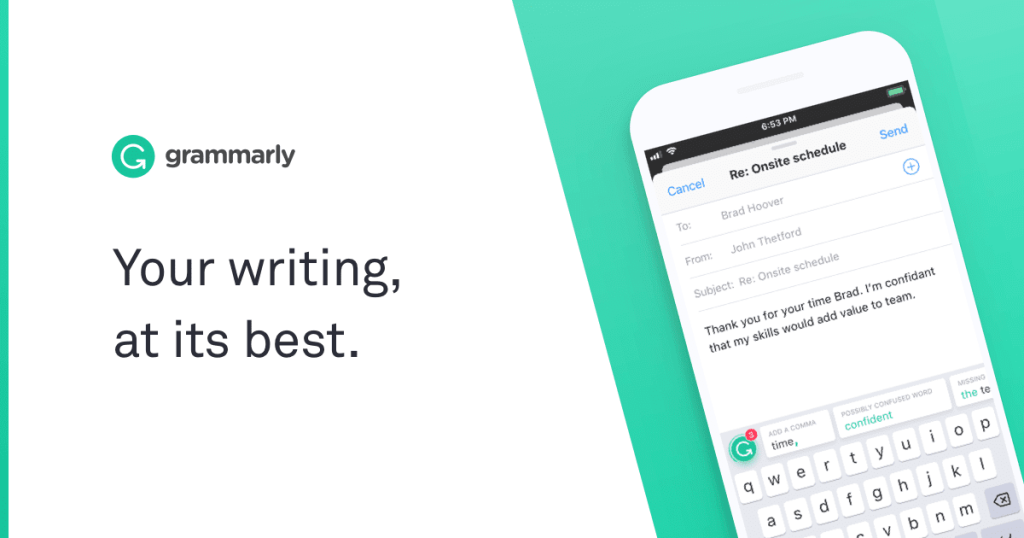 This app not only checks spelling and grammar mistakes but also helps you improve your writing by gaining an understanding based on your audience and your goals.
To do that, the software provides:
– Cards (free)
– Reporting (free)
– Language preference (free)
– Plagiarism checker (premium)
– Vocabulary enhancement suggestions (premium)
How does Grammarly work?
So, now you know what it is, how does Grammarly work? Once you've created an account, you will be asked some questions about your needs, your goals and your audience in order to offer you a personalised experience and customised suggestions.
Grammarly makes it super easy by providing accessibility and synchronisation from all your devices and apps:
– Web Editor:
Create documents, upload existing ones or copy-paste your texts then store them in the software. Click 'Start review' and let the magic happen.
Extension for Chrome:
Grammarly's free browser extension helps you write in nearly every website such as Gmail, Jira Core, Facebook or Slack.
– Desktop App for Mac:
The app is very convenient to quickly drag and drop your document into the app to check them.
– For Microsoft Word:
Available on Mac and Windows, enhance your Word experience by adding Grammarly.
– For iPhone & iPad:
On your mobile, install the Grammarly keyboard that will integrate with all your favourite apps and browser. On iPad, download the App from the App Store and make sure your texts are correct, even on the go!
When the editor checks your document, it will be given an overall score and the number of issues. The assistant gives you an explanation for each issue and offers you an alternative or correction.

What are the benefits of Grammarly?
The biggest benefit of Grammarly is making sure your copies are mistake-free. It will save you time with editing. Moreover, using this app every day will help develop your vocabulary, make you write better and avoid the mistakes that may have plagued you in the past!
How is it different from Microsoft Word checker?
Grammarly goes beyond any other traditional tools by offering a customised experience regarding the context: business, academic, casual, technical, creative and general, your audience, and even your native language.
How much is Grammarly Premium?
Grammarly has a free and very complete version on all devices.
Now, if you want to experience the full power of Grammarly Premium, register to the Premium or Business Plan, starting at £11.66/month.
Conclusion
This app truly is a wonderful tool, doing an amazing job by providing real-time editing to achieve better writing and content. I personally love it and use it for everything (thanks to the chrome extension!).
Don't wait any longer to take your copywriting skills to the next level, install this application now. Alternatively, read about how much data your favourite apps use, or return to the Business Mobiles blog!
Watch our demo video to learn more about Grammarly: