Wondering what is Dropbox for Business and what's the price? Dropbox for business is a great digital storage solution for any company. In this post, we aim to cover everything you need to know about this superb storage platform:
Over the past year, the whole world has started to work from home, pushing business-owners to adopt new ways of working. Luckily, there is a whole suite of tools and apps available to help you to maintain your business efficiency – even from a distance! Welcome to our new series of articles that we call: Work From Home Tools
It's time to cover the big question – what is Dropbox Business exactly? Read on and learn about this platform for yourself:
What is Dropbox?
Most of you might already know and use Dropbox; it is recognised as one of the best cloud storage services. On the platform, you can save files including documents, pictures, videos, audio… basically, any type of file.
The main benefit is making your computer lighter and your files accessible from all your devices! The other great thing is being able to share your files with anyone you want, whilst keeping control of your data.
What is Dropbox Business?
So, what is Dropbox Business and how does it work? In order to adapt this concept to professionals, Dropbox developed Dropbox for Business.
Have you ever felt lost in a pile of files trying to find one important document? Now, with Dropbox for Business, your company's workflow is easy to access and share in a secure environment. You can find anything you want with one click. This is more than just a secure file storage, it's a smart workspace where your team and content come together.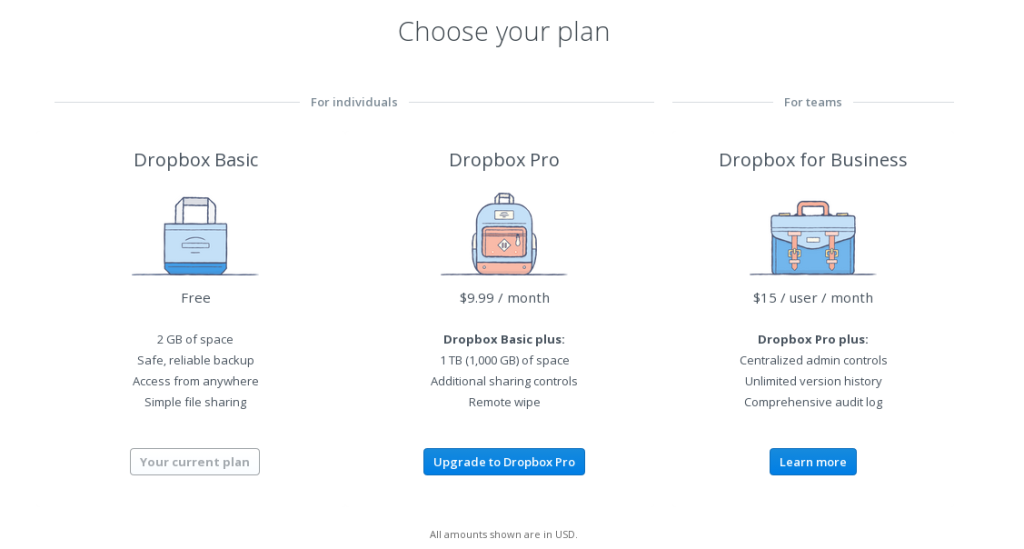 Content storage
So now we've answered what is Dropbox Business, let's cover the many perks behind it:
How amazing would it be to have all your content in one place only? Dropbox for Business offers flexible storage plans to ensure your team has the space needed to be productive. You can store any document as well as Google Docs, Sheets, Slides, Microsoft Office files, Trello Board or Dropbox Paper. Everything you need to collaborate and stay focused.

The 'File Preview' feature will save you a considerable amount of time by allowing you to have a quick look at a file before fully opening it. An added benefit is easy access to deleted files and being able to recover previous file versions in case of a mistake.

To boost your productivity, another amazing feature is called 'Suggested Contents'. Dropbox for Business offers intelligent suggestions for files that might interest you as soon as you log on.
Finally, when you're done working online with your colleague, you can download the files you need on your computer using 'SmartSync'.
Collaborative workplace
Collaborating is super easy with Dropbox Business. Invite your fellow colleagues directly from the platform or share the link by email or by chat. Create groups and work together on the same documents or keep it private. Your teammates can add or edit files and use comments to quickly gather feedback.
Changes are synced automatically. What an amazing way to create together! Link your Dropbox account with your communication tool such as Zoom or Slack to start a discussion or video chat instantly. Learn more about Zoom & Slack by reading our best online meeting platforms post today!
Safe environment
Manage your team's data using the admin tools for more control and visibility. From your dashboard, you can decide who can access, edit or download the different files, protect your documents with a password or set expiration dates for temporary access. Dropbox has a safe infrastructure which guarantees protection of your company's data.
Dropbox Paper
Dropbox's latest feature, Dropbox Paper, helps to bring ideas to life as it allows you to collaborate with your team within a single document. Create a 'Paper' using a template or start from scratch, write texts, insert any media you'd like, mention people, add a timeline and 'to-do' tasks with due dates, link any other document from your Dropbox or integrate from applications such as Google Drive, Airtable, YouTube, and many more.
With its smart and easy formatting option, transform your document in a professional presentation in one click. It is ideal to plan a marketing campaign for example or to create an onboarding document for your company's new recruits. Continue on for one of our most important sections, Dropbox Business price:
Dropbox Business Price
– The standard plan is £10/month per user starting at 3 users with 5TB of storage,
– The Advanced plan is £15/month per user starting at 3 users with more space and features.
– An Enterprise plan is also possible and customisable according to your needs.
View details for Dropbox Business Price Plans & try free for 30 days.
Our conclusion
Dropbox has already attracted more than half a billion users, so there is a chance that your team members are already familiar with it and will adapt easily to this tool for work. With easy access from computers and mobiles, using Dropbox for Business will bring more efficiency, organisation and productivity to your company. So, what are you waiting for?
Try it and let us know what you think in the comment section – or read our post on the best team work apps for management and connectivity now!