With such a selection of apps these days, you could be forgiven for wondering "what is Blinkist"? Here's your answer:
Blinkist is an app that offers reading and listening services of over 3000 nonfiction books. But… what makes the Blinkist app so good? It's the fact that it gives you the most essential information from each book in a 15-minute resume ONLY – what more could we ask for? The Blinkist app is perfect for busy business owners who want to learn from books but don't have the time, or people who don't enjoy the process of reading but still want to gain knowledge.
Nowadays, there are so many new books released as quickly as the snap of a finger. When you have a tight schedule, it is not always easy to find the time to read; especially if you are, say, running a super successful business. However, there is no need to worry, as the Blinkist app offers the perfect solution!
So now that you know what it is, I'm sure you already want to try it! However, for those who are not yet convinced, I'm going to tell you five reasons why you should use the Blinkist app (and why we love it so much at BusinessMobiles.com!)
👉 iOS vs Android: Which one is the best in 2022? Read NOW!
1.
Learn faster
The first, and the main, reason is that the Blinkist app gives you the key ideas from bestselling nonfiction titles in 15-minute resumes (called 'blinks'). By only receiving the most valuable information, and cutting out all those paragraphs of chatter, you can save so much time.
2.
Learn on-the-go
You can't read at the moment? Not a problem, listen to the 'blinks' just like an audiobook while you're running, cooking or commuting to the office (a great alternative to scrolling through social feeds that I'm very guilty of!). The Blinkist app is available for all your devices, so you don't miss anything!
3.
Retain information easier
Picture this; you are 'blinking' a book and you like a specific part and want to come back to it later? Use Blinkist's highlighting tool and never forget any crucial point.
4.
Save money
For a small cost of £9.99/month (£59.99 yearly – 50% annual saving), you can 'blink' as many books as you want out of the 3000 titles on offer. Imagine what would all these books cost to buy individually? This cost is extremely low in comparison to the knowledge you gain.
5.
Choose between a wide selection
As stated, the Blinkist app offers a massive selection of over 3000 bestselling books, and the list is updated very regularly. There are 27 categories to choose from, such as career & success, health & nutrition, marketing, and even history). Blinkist shows you what's trending now and gives you a recommendation based on your interests – you will always find a book to 'blink'!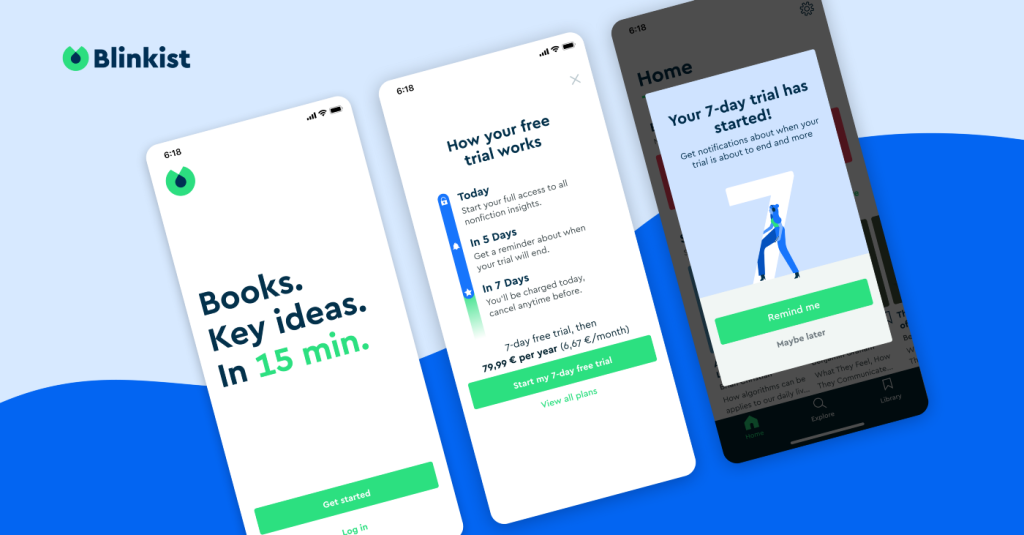 Blinkist Cost – is it worth paying for?
The answer is… Absolutely!
The Blinkist app gives you easy access to knowledge from bestselling nonfiction books. If you're a busy person, the overall Blinkist cost is nothing when compared to having the perfect tool to add to your daily life!
Moreover, the app is so easy to use, it is simple and straightforward. Just one click on the book you want to 'blink' and you are already learning!
Start using the Blinkist app today, or return to the Business Mobiles Blog now. Looking for other productivity apps? Read through our list of the best focus apps for work here.