Nothing is worse than the rage you experience trying to perform a simple task on your phone but having to wait for it to load, unfreeze, and buffer. Maybe you just want to see if you're going in the right direction because you're already running late. And your mobile just isn't cooperating making you lose precious minutes! A slow mobile is undeniably irritating.
In this article, we are going to break down for you what could be the reason for your mobile phone's sloth-like pace, and what you can do to speed it up!
Why Is Your Phone So Slow?
There could be plenty of reasons for your mobile's irritatingly slow pace. So if you have wondered to yourself "Why is my iPhone so slow?" or "Why is my Android so slow?" then we are here to help you get your answers.
1) You forgot about software updates
We are all guilty of ignoring the notification to update your phone to the latest software. Promising ourselves we will do it later but never getting round to it. Well, this could be the very reason why your mobile is starting to drag. So if you are running several updates behind take this as your sign to UPDATE YOUR MOBILE!
2) Running low on storage
If your storage space is too full this can cause your mobile to really slow down. So it may be time to go through and delete some apps you don't use and any photos you can bear to part with.
Here's how to check your storage:
Android:
Go to Settings
Tap Device Care
Open Storage to see how much you have left
Apple:
Go to Settings
Select General
Tap iPhone Storage to check the storage you have left
3) Too many apps
Did you know having too many apps can slow down your phone? Too many apps can slow down your mobile as well as drain your battery life. So if you have screens upon screens of apps maybe it's time you had a clear out. Because let's be honest you probably never touch half of them anyway.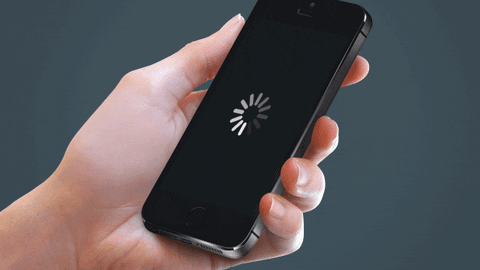 5 Ways To Speed Up Your Mobile
So now that you know why your mobile could be slowing down, here is how you can help to speed up the performance of your mobile.
1) Have you tried turning it off and on again?
We know this is such a basic step but it is also a great place to start. Think about it when was the last time you actually turned your mobile off? We normally just lock it and put it on charge before it dies on you but you never really turn it off or restart it. So give that a go before attempting any of our other tips.
2) Update time
If you haven't updated your mobile to the latest software then what are you waiting for? Like we said above it could be the reason for your mobile's slow pace so stop putting it off and install those updates now!
3) Check your battery health
Poor battery health could be a big reason why your phone is so slow. If your battery is a few years old then it is definitely in need of a change. Unfortunately, many batteries do not last especially from the constant usage, so they do deteriorate over time. With poor battery health there isn't much that you can do, but get a new battery or a new mobile.
Before you do so you want to be sure that it is the battery health casing your mobile to be so slow in the first place. There are a few ways that you can check. If you are an Apple user then you can go to the settings and go to the Battery Health section. There you can see how your battery is performing. If you have an Android then you will need to download an app to assess your battery health.
4) Clear your cache
Like having too many apps your cache could be the cause of a slow mobile. When you use your business mobile to browse the internet your cache keeps bits of data on your device. That is why clearing your cache could help free up space and help speed up your mobile.
To clear your cache on Android applications you will need to head to settings, locate apps, and then clear the cache of your chosen applications. The main one to clear would be your web browser.
On an iPhone, you will need to go to settings and locate your chosen web browser, and tap "Clear History and Website Data" to clear your cache.
5) Check for damage
If you have done all the relevant checks and your phone is still not cooperating then your mobile may have some water or physical damage of some kind. If that is the case then the best thing you can do is to get yourself a brand new device.
Want to know what to do if your mobile has water damage? Click HERE to find out more!
Have You Tried Everything?
Tried everything but still can't get your mobile to speed up again? Then it may be time to get yourself a new mobile! At Businessmobiles.com we have a range of devices perfect for any sized business in the UK. From Apple to Android we have your brand new mobile! Don't settle for a slow outdated handset and treat yourself to the latest model at the best price. We have a range of handsets available to order cheaper than going directly to the network.
Click HERE to talk to one of our friendly professionals if you need a little guidance, or click HERE to shop our range of mobiles. With Businessmobiles.com you will never have to ask: Why is my phone so slow?