Are you ready for the Apple Event in March? You're a little late! Apple has already hosted this event, alongside a subsequent Apple Event during September 2022.
Want to catch up on Apple's Q1 of 2022? Here's everything we knew at the time, plus some extras, including the new iOS 16 release!
When Is It?
The first Apple event of the year is finally here! Tune in on the 8th of March 2022. You definitely do not want to miss it!
Tune in at 6 pm via the Apple website or the Apple TV app.
What To Expect?
The invitation to the event is very minimal. With the Apple logo in 6 colours followed by the tag line: "Peak Performance". We can not wait to find out what they have in store for 2022. The 6 colours are significant as they are the same colours that were used in the company's logo between 1977 & 1998.
The tagline: "Peak Performance" could have a number of meanings, but we expect that whatever is revealed this week will outperform anything released before.
New Devices
It is rumoured that they will be unveiling the new iPad Air and iPhone SE 2022!
This fifth-generation iPad Air will follow in the footsteps of the iPad mini that was released last September. Therefore, it could also be powered by the A15 chipset, the fastest processor in the A-series. As well as this the cellular version will also support 5G mobile downloads for even faster usage! It is said that the speakers will be doubled to four speakers to create an even better sound experience.

There are also rumours that a redesigned MacBook air could be unveiled during the event. With the switch from Intel processors, Apple rebooted the MacBook Pro with an all-screen design and the return of the MagSafe connector and HDMI ports.
So now it is the MacBook Air's turn for an upgrade. The Air is rumoured to come in a few new colours like the latest iMac design. They are also said to release the new MagSafe connector, which will help protect your laptop from being dragged off the table if someone accidentally trips over the cable.
iPhone SE

Design
No major design changes are expected from the new SE. It will feature a 4.7-inch LCD display with thick bezels and a Touch ID Home button, making it Apple's most modern ‌iPhone‌ that still offers ‌Touch ID‌.
The back of the phone will be made from glass so that wireless charging will work. It is also expected that the battery will remain the same.
5G
Like most modern mobiles the new SE will be 5G compatible. This alone is a major selling point for the mobile! Making it Apple's cheapest mobile that is compatible with 5G.
Camera
The ‌iPhone SE‌ is expected to have an updated camera. It is even speculated that it may have a Wide-Angle camera like the iPhone 13.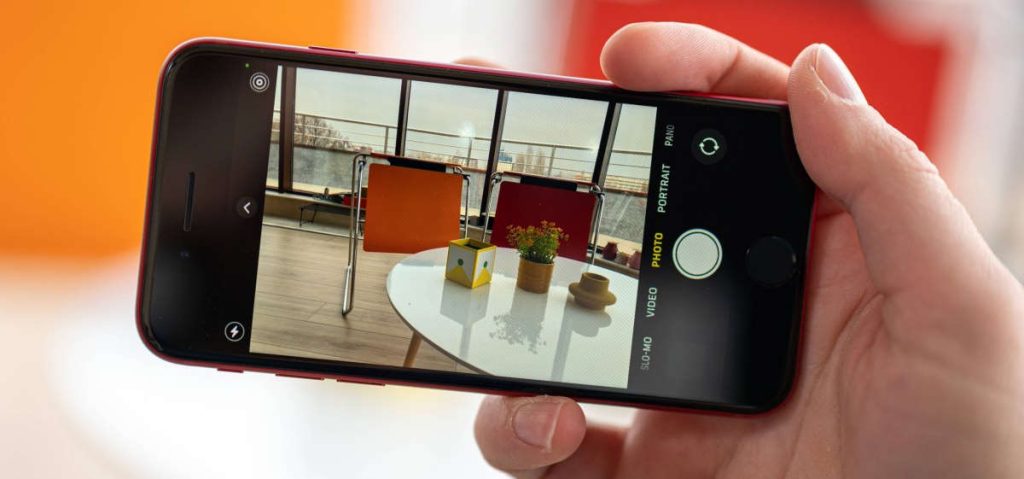 The current iPhone Se has a 7-megapixel front camera and a single-lens 12-megapixel rear camera. Lastly, the new model is expected to have a better camera than its more affordable predecessor.
Price
It is estimated that the new mobile will cost around £304. All the Apple goodness at an affordable price point. In fact, this model made our Top 10 list of as the best budget iPhone for business.
Can't tell the difference between the old and new models? Read through our iPhone SE 2020 vs 2022 comparison post here!
New iOS 16
It is also rumoured that the date for iOS 15.4, the next MAJOR upgrade for iPhone users, will most likely be revealed during this event.
This update is said to include an option that will allow users to use Face ID whilst wearing a face-covering! It is also said that this new update will come with a non-binary voice for Siri as well as some new emojis!

Remember these are all rumours of the March 2022 Apple event, so we are not sure what exactly will be revealed but we will not have to wait long to find out!
UPDATE: iOS 16 is officially here, bringing with it all of the most anticipated features of 2022. Learn everything about the latest Apple iOS 16 update & new features now.
Shop Apple Products For Less
Now you know about March, you do not want to miss the September Apple Event of 2022! So make sure you set a reminder and watch along with us. Alternatively, learn how to pre-order the upcoming iPhone 14 now, or exactly what is an Apple AirTag & how to use it!
Learn and compare the benefits behind a business mobile phone deal, and how to find the best for yours.
If you are an avid Apple fan and want to get business mobiles for less, then you need to shop our incredible deals: